Ford stock was up sharply in premarkets today. The stock is up almost 57% so far in 2021 and is among the top gainers in the S&P 500 Index. What's the forecast for Ford stock in July 2021 and is it a good stock to buy despite the massive surge?
To be sure, legacy automakers have seen a rerating this year as investors have pivoted from electric vehicle companies like Tesla and NIO which were trading at exorbitant valuations. General Motors rose to a post-bankruptcy high earlier this year.
Ford stock technical analysis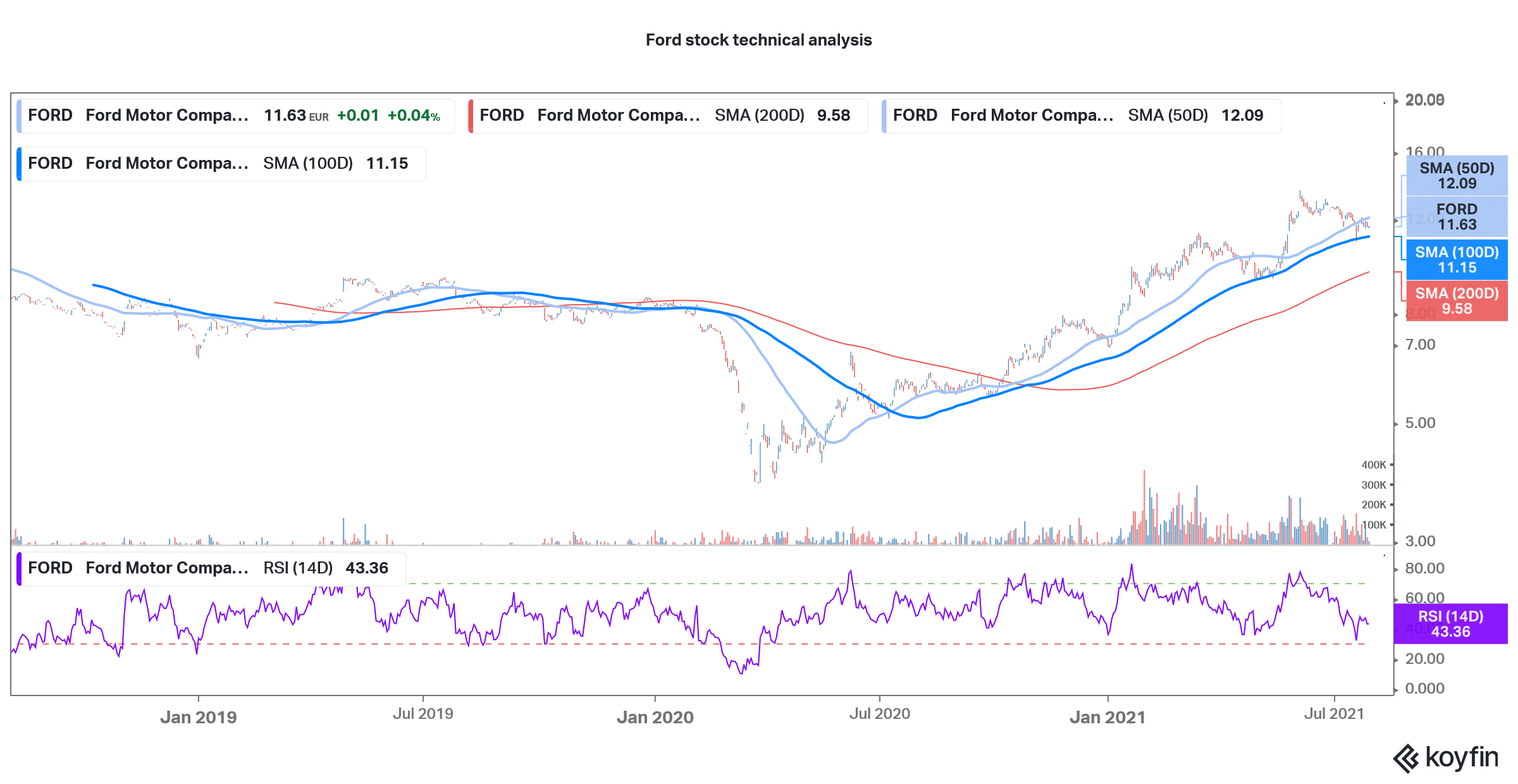 Ford stock is looking neutral on the charts. While it trades above the long-term moving averages like the 100-day and 200-day SMA (simple moving average), it trades below the 30-day and 50-day SMA. That said, looking at the premarket price action today, Ford could try to break above the 50-day SMA which has been a resistance. The stock has however found strong support at the 100-day SMA. While the 12,26 MACD (moving average convergence divergence) gives a sell indicator, the 14-day RSI (relative strength index) is neutral at 44.9.
67% of all retail investor accounts lose money when trading CFDs with this provider
Recent developments
Ford released its second-quarter earnings yesterday which smashed estimates. America's second-largest automaker posted an adjusted EPS of 13 cents while analysts were expecting it to post a loss per share of 3 cents. The company's revenues came in at $24.13 billion which was slightly below the $24.25 billion that analysts were expecting.
The company also raised its guidance and said that it expects pre-tax profits between $9-$10 billion in 2021. Notably, the company had lowered the guidance during the first-quarter earnings call as it warned of bottlenecks from the chip shortage situation. The company had then forecast that it would lose half of its second-quarter production due to chip shortage. Meanwhile, the situation did not turn out to be as dire as it had expected.
"Ford did better than expected, leveraging strong demand to optimize revenue and profits through lower incentives and a favorable mix of vehicles, which generated companywide adjusted earnings before interest and taxes of $1.1 billion," the company said in its release.
Ford electric vehicle plans
Ford has increased its outlay towards electric vehicles and autonomous technologies and these investments are paying off. In its second-quarter earnings release, the company said that its Mustang Mach-E is the second largest selling electric SUV in the country. It has received 120,000 preorders for its F-150 Lightning, the electric pickup that it launched earlier this year. The company also said that three fourth of these bookings have come from customers who are new to Ford.
F-150
The F-150 is widely believed to be the biggest profit center for Ford. It has been the best-selling pick-up truck in the US for over four decades. Meanwhile, the electric model will compete with Tesla's Cybertruck which will also debut next year. Th Cybertruck has an unconventional design but the company would bank on its strong brand equity and Elon Musk's persona to lift sales.
Meanwhile, in terms of preorders, Cybertruck beats F-150 handsomely. Tesla's pickup received 250,000 preorders in a few weeks and the total reservations are now expected to be above 1 million.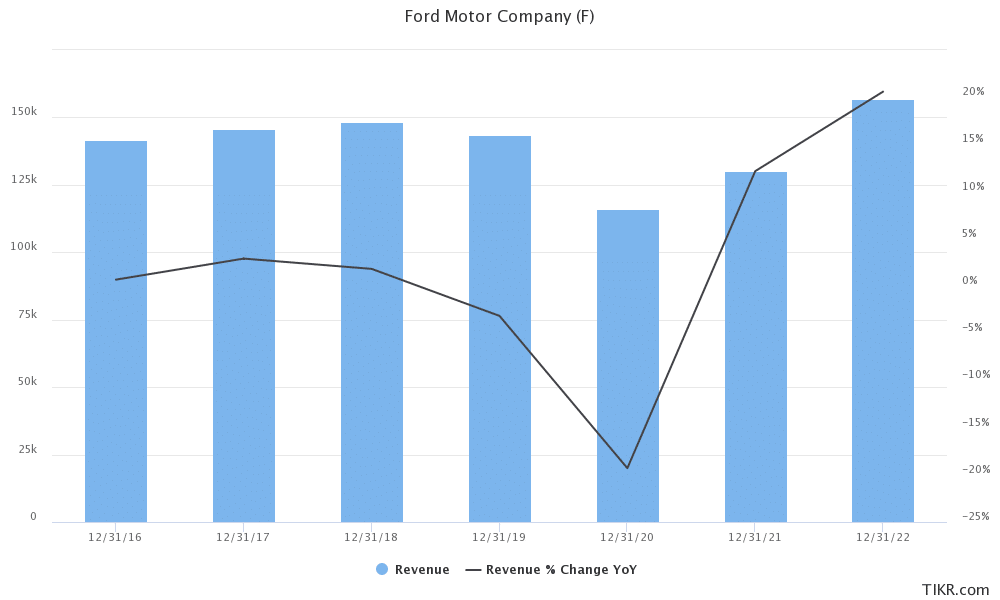 Ford dividend
Ford did not make an announcement on the dividend. The company had suspended the dividend last year and later said that it would revisit the suspension in the spring of 2021. So far, the company hasn't made any announcement of a possible timeline for dividend restoration.
F stock forecast
According to the consensus estimates compiled by CNN Business, F's median target price of $16 is a 15.3% upside over current prices. Its lowest target price is $11 while $18 is its highest target price. The highest target price implies an upside of 30% over the next 12 months while the lowest target price is a discount of 21% over current prices. Of the 23 analysts covering the stock, 14 have a buy rating while eight rate them as a hold. One analyst has a sell rating on the automaker.
Earlier this month, Bank of America analyst John Murphy raised his target price on Ford by $1 to a street high of $18. He expected broad-based earnings beat from the company. Murphy's forecast has come true and F's earnings were good across the board barring the slight miss on the revenues.
Outlook for F stock
Ford expects headwinds from higher costs in the second half of 2021. "We expect commodities to be up almost $2 billion half over half. Warranty costs are expected to be higher in the second half, up about $500 million, though we still expect full-year warranty expense to be down year over year," said CFO John Lawler in the earnings call. He also said that Ford Credit's second-half performance is expected to be lower than the first half.
Ford stock long term forecast
The long-term forecast for F stock looks positive looking at its vehicle electrification plans. The company is investing in ramping up the production of electric vehicles and unlike most other electric vehicle companies it is posting profits. F stock looks reasonably priced with an NTM (next-12 months) PE multiple of just under 8x. The company has a market cap of $54 billion which is below that of NIO. While it is not an apples-to-apples comparison, it goes to show the valuation discount for legacy automakers.
Analysts expect Ford's revenues to rise 12.2% in 2021 and 20.6% in 2022. As the chip supply situation improves, Ford's earnings should also rise further. Also, as Ford scales up the deliveries of electric cars, the stock could see further expansion of valuation multiples. Looking at the tepid valuations and the strong growth outlook, F looks like a good buy at these prices.
67% of all retail investor accounts lose money when trading CFDs with this provider
About Mohit
PRO INVESTOR
Mohit Oberoi is a freelance finance writer based in India. He has completed his MBA with finance as majors and also holds a CFA charter. He has over 14 years of experience in financial markets. He has been writing extensively on global markets for the last seven years and has written over 7,500 articles. He covers metals, electric vehicles, asset managers, tech stocks, and other macroeconomic news. He also loves writing on personal finance and topics related to valuation.
Tell us about you
Find us at the office
Eastmond- Sukel street no. 62, 79540 Hanga Roa, Easter Island
Give us a ring
Jaquelinee Wrate
+74 201 709 645
Mon - Fri, 9:00-15:00